Specifications:

Floor Type: Luxury Vinyl Tile Flooring(LVT)/Luxury Vinyl Plank Flooring(LVP)

Size: 6" x 36" 6" x 48" 7"x48" 16"x16" 18"x18" 12"x24" or Customized Sizes

Thickness: 2mm, 2.5mm, 3mm, 3.2mm, 4.0mm, 4.5mm, 5.0mm

Wear Layer: 0.3mm 0.5mm

Packing Details: 2mm Thickness 64-72Cartons/20Pallets/20'GP 4200M2 - 4800M2 /20' Container
2.5mm Thickness 60Cartons/20Pallets/20'GP 3900M2 - 4013M2 /20' Container
3mm Thickness 48-50Cartons/20Pallets/20'GP 3200M2 - 3250M2 /20' Container
4mm Thickness 45-54Cartons/20Pallets/20'GP 2341M2 - 2408M2 /20' Container
4.5mm Thickness 40-72Cartons/20Pallets/20'GP 1873M2 - 2782M2 /20' Container
5mm Thickness 45-54Cartons/20Pallets/20'GP 1873M2 - 2007M2 /20' Container
Material: 100% Virgin PVC

Features: 100% Waterproof, Fireproof, Soundproof, Anti-Static, Wear Resistant, Eco-Friendly

Edge: Squared Edge, Micro Beveled Edge(Optional)


Surface Finish(UV Coating): Embossed Oak Wood Look

Surface Pattern/Colors: Flemish Oak, French Oak, Light Canyon, Oak Plank, Whitened Oak Plank

Other Options: 1mm IXPE, 1.5mm EVA, Cork , V-Groove Paint, Handscraped, EIR etc

Installation Method: Dry back, Loose lay, Self-Adhesive, Floating, Click Locking System

Formaldehyde Content: Carb2


Certification: SGS, FlooorScore, CE, ISO9001, ISO14001

Application: Residential & Commercial such as Kitchen, Bathroom, Laundry, Living Room, Basement, Hotel, Office etc

Warranty: Commercial: 15 years, Residential: 25 years

Luxury Vinyl Tile Flooring (LVT), Luxury Vinyl Plank (LVP), or sheet vinyl, is becoming extremely popular for both residential and commercial applications. Although unknown to many homeowners, it has been around for a while in Europe and some other countries. You can find luxury vinyl tile being used in many major commercial applications, such as retail chains, offices, commercial lobbies, etc. It is also growing with many homeowners as a popular alternative to ceramic tile, laminate and natural wood floors.
LVT is extremely durable, water-resistant, as well as scratch and stain resistant. It is also much warmer and quieter under foot than traditional ceramic tile, stone or slate floors. Because of its inherent resiliency luxury vinyl tile is more forgiving when objects are dropped on the surface than ceramic tile. Offered in tile, plank, and sheet formats, vinyl flooring boasts realistic visuals, easy installation, and a high level of comfort.
Luxury PVC LVT/LVP floorings are very popular in USA, Canada, and European countries such as Netherlands, Spain, UK, France, Italy, Germany, Belgium, Sweden, Switzerland, Luxemburg, Austria, Hungary, Denmark, Portugal, Poland, Czech, Norway, Finland, Ireland, Slovenia, Slovak, Lithuania, Greece and so on.
LVT/LVP Floorings are also hot-selled in Southeast Asian & Middle East countries like Thailand, Singapore, Malaysia, Philippines, Indonesia, Dubai, UAE, Australia, New Zealand, South Africa etc.
Construction of LVT, LVP floorings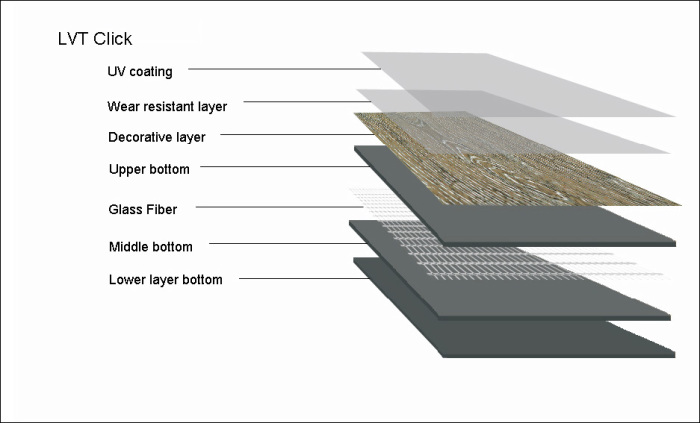 Benefits of Luxury Vinyl Tile(LVT)/Luxury Vinyl Plank(LVP) Floorings
Affordability: LVT floorings have cost and durability advantages over such other solid-surface flooring choices as hardwood, ceramic or stone. Traditional hardwood and stone flooring options are more costly than LVT. If you're looking for a durable alternative at a much lower cost, look no further.
Wide variety of Realistic Surface Texture: LVT floorings have become master imitators of natural surfaces like wood, stone, cereamic, leather and other flooring types. Available in planks or tiles, LVT uses a realistic photographic print film and a clear vinyl layer that opens up a wide variety of design concepts. Even the most trained of eyes have a hard time distinguishing LVT from the products that it mimics.
Comfort: Luxury vinyl is strong but soft underfoot, maintaining a comfortable temperature in all seasons. Resilient flooring—whether LVT, LVP, or sheet vinyl—is known for its warmth and comfort underfoot. Luxury vinyl tile has a softer surface than other flooring materials, like wood or stone, which is more comfortable underfoot and sound reducing, which is a very important trait for many facilities.
Resistant to whatever life throws at it
LVT is easy to clean, won't chip, and is resistant to staining, moisture, which makes it an ideal option for kitchens, bathrooms, and areas below ground level. Luxury vinyl tile is resistant to:
Staining

Water, moisture, mold, and mildew

Scuffing and scratching

Slips and falls
Easy Installation: LVT Floorings are easier to install than most other flooring options. LVT can be easily installed in two ways, either with glue or with a loose-lay floor. If you are going do it yourself, DIY flooring, it makes your job very easy.
Easy Maintenance: LVT floorings are easier to maintain than wood or tile, as they do not demand refinishing or other more labor-intensive maintenance. Hardwood or engineered-wood floors may need refinishing, and some tile types may need resealing or regrouting.
Simple Repairing: LVT Flooring can allow for repair by replacement of a damaged plank or tile.
Durability: LVT is made in layers; its primary component is PVC vinyl, which is waterproof, makes LVT floorings dimensionally stable and flexible. With the appearance of wood-look hardwood flooring, it can last you a lifetime.
Fade Resistant: Due to the protective layer on top that prevents any harsh element from discoloring the floor that may give it a faded look. This allows the floor to remain looking fresh and good-looking for years together.
More Natural Oak Wood Grain Colors: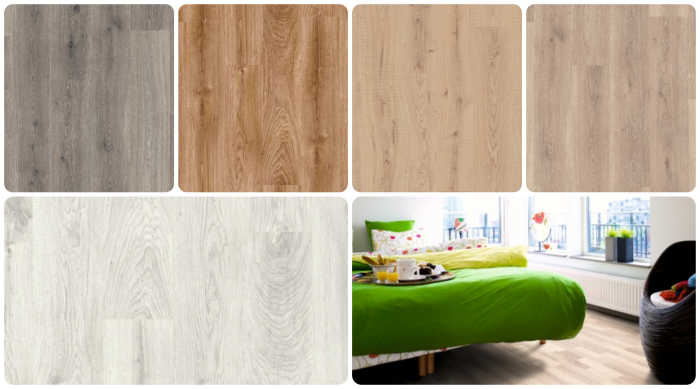 Gallery of Application of Luxury PVC Click LVT/LVP Vinyl Floorings
Holk Floor's Luxury PVC Click LVT/LVP Flooring prices are Unbeatable without sacrificing the quality.
Same or Better Quality PVC Vinyl Floorings, but definitely Cheaper than Your Current/Existing suppliers!
Contact us TODAY for FREE guidance and quotes to SAVE MONEY for you!