Cjc-1295 Peptide Human Growth Steroid Cjc-1295 Without Dac for Muscle Enhance

Product Description
Synonyms: CJC-1295 without DAC, CJC 1295 no DAC, , Neorelin, Modified Sermorelin
CJC-1295 CAS NO.: 863288-34-0
CJC-1295 Molecular Formula: C152H252N44O42
CJC-1295 Molecular weight: 3367.2
CJC-1295 Molar Mass: 3368.7
CJC-1295 Peptide purity: > 98.0%
CJC-1295 Appearance: White lyophilized powder
CJC-1295 Related substance: Total Impurities (%) ≤ 2.0%
CJC-1295 Acetate content: ≤ 15.0%
CJC-1295 Bacterial Endotoxins: ≤5 IU/mg
CJC-1295 Sequence: Tyr-d-ALA-Asp-Ala-Ile-Phe-Thr-Gln-Ser-Tyr-Arg-Lys-Val-Leu-Ala-Gln-Leu-Ser-Ala-Arg-Lys-Leu-Leu-Gln-Asp-Ile-Leu-Ser-Arg-NH2
CJC-1295 Source: Chemical Synthesis
Reconstitution: To follow best practice guidelines for reconstituting CJC-1295 without DAC, reconstitute in sterile, bacteriostatic, distilled water, with light sonication if necessary.
Shelf life: One year from dispatch.

Storage for CJC-1295 without DAC
Lyophilized MOD GRF 1-29 is stable at room temperature for 90 days, however it should be stored in a freezer below -8°C for any extended period of time. After reconstitution, may be stored for a maximum of 14 days in a refrigerator at 2°C - 8°C. Store vials in an upright position. Store MOD GRF-129 refrigerated between temperatures 2°C - 8°C. Keep in the outer carton in order to protect from light. For one month can be stored at room temperature.

CJC-1295 without DAC usage

Modified GRF 1-29 is also known as Mod GRF 1-29, but even more commonly known as CJC-1295 without DAC. It is a protein that is 29 amino acids long and it is a GHRH analogue. CJC-1295 without DAC acts on receptors at the pituitary gland to stimulate the release of Human Growth Hormone.

CJC-1295 without DAC could be referred to more properly as a second generation derivative of GHRH. GHRH is modified to create what is known as Releasing Factor (GRF) 1-29, also known as Sermorelin. GRF 1-29 is then further modified to create Mod GRF 1-29 which is CJC-1295 without DAC.

CJC-1295 without DAC Dosage

Mod GRF 1-29 is typically provided in vials containing 2 mg of lyophylized powder, though the amount can vary. The contents should be reconstituted by adding a convenient amount of sterile or bacteriostatic water. If for example 2 mL is chosen and the dosing of the vial is 2 mg, the resulting solution then has a concentration of 1 mg/mL, or 1000 mcg/mL.
Wholesale High Quality China Peptide-CJC1295WithDAC

CJC1295dac 2mg Per Vial From China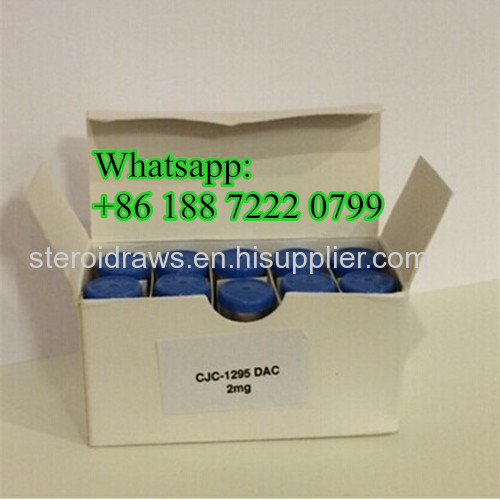 CJC 1295 with DAC
other name: CJC1295dac, CJC1295withDAC
Product Description: CJC-1295 2mg/Vial
CJC1295dac Type: Immune Function AgentsGrade
CJC1295dac Standard: Medicine Grade
CJC1295dac Classification: Brassinosteroid
CJC1295dac MF: C165H271N47O46
CJC1295dac Molecular Weight: 3649.30
CJC1295dac Purity (HPLC): 98.0%
CJC1295dac Appearance: White powder
CJC1295dac Single Impurity(HPLC): 1.0%
CJC1295dac Amino Acid Composition: 10% of theoretical
CJC1295dac Peptide Content(N%): 80%(by %N)
CJC1295dac Water Content(Karl Fischer): 6.0%
CJC1295dac Acetate Content(HPIC): 15.0%
CJC1295dac Mass Balance: 95.0~105.0%
CJC 1295 with DAC is a powerful growth hormone releasing hormone that can be effectively used with a GHRP in order to maximize the greatest endogenous growth hormone release bodybuilders and athletes are looking for. Even though CJC 1295 with DAC may be a bit more expensive than MOD GRF 1-29 (CJC 1295 without DAC), it is still the preferred and more powerful GHRH component in your peptide protocol.
What's is CJC1295 with DAC:
The original GRF (1-29) has a half-life of about 30 minutes. Half-life means the time within which half of the hormone administered will be destroyed within the body. This short half-life is due to the fact that the compound is highly unstable and breaks down soon. To increase its stability and to make it last longer, it was modified by adding 4 amino acids in its structure. This gave it the name Modified GRF (1-29) or Mod GRF 1-29. It was originally invented by DatBtrue. The portion of the molecule that actually stimulates the growth hormone secretion is found in the chain of 29 amino acids, so it is named GRF (1-29). This chemical also produces slow-wave sleep.
However, both the original GRF (1-29) and the Mod GRF 1-29 required frequent dosages. So a new compound called CJC-1295 was created which was far more stable. This compound was made by adding Lysine - which is a non-peptide, and is also called Drug Affinity Complex or DAC. Since the original Mod GRF 1-29 does not contain DAC, it is named as CJC-1295 without DAC. However, the actual CJC-1295 is not only difficult, but also very expensive to produce. This is why it is not produced or used extensively. The Mod GRF 1-29 is far easier and cheaper to produce.
CJC 1295 AND GHRP 6 CYCLE
Growth Hormone Replacement Peptide (GHRP 6) is often used in conjunction with CJC 1295 DAC for its synergistic effect on increasing GH secretion. For the CJC 1295 DAC weekly cycle, an evening injection of GHRP 6 causes a nocturnal surge of growth hormone with less of a surge of cortisol and prolactin (compared to GHRP 2). GHRP 6 can also be used in conjunction (stacked) with regular HGH cycles, or pulses, 2-3 times per day for a period of several weeks. Again, personal preference and research goals will dictate the preferred cycle.
| | | |
| --- | --- | --- |
| Polypeptide Hormones we supply | | |
| Melanotan II | CAS 121062-08-6 | timulate the body's tanning response |
| Selank | CAS 129954-34-3 | help enhance mental sharpness,enhance memory |
| DSIP | CAS 62568-57-4 | Delta sleep-inducing peptide, abbreviated DSIP |
| Gonadotropin | CAS 71447-49-9 | Mainly used for prostate cancer |
| Tesamorelin | CAS 218949-48-5 | used in the treatment of HIV-associated lipodystrophy |
| Triptorelin | CAS 57773-63-4 | used as the acetate or pamoate salts |
| HG 176-191 | | the fat-reducing effects |
| Pentadecapeptide BPC 157 | CAS 137525-51-0 | increasing lean muscular tissue mass, reducing fat |
| TB500 | CAS 77591-33-4 | oincrease muscle growth |
| Oxytocin | CAS 50-56-6 | used for stimulation of uterus contractions |
| Sermorelin | CAS 86168-78-7 | Increases the development of lean body mass |
| Hexarelin | CAS 140703-51-1 | the treatment of growth hormone secretion deficiency |
| Ipamorelin | CAS 170851-70-4 | a selective growth hormone secretagogue |
| Melanotan 1 | CAS 75921-69-6 | endogenous melanocortine peptide |
| MGF | | used by bodybuilders and athletes |
| PEG-MGF | | cause site specific muscle growth |
| CJC-1295 Without DAC | CAS 863288-34-0 | increasing binding affinity to the GHRH receptors |
| CJC-1295 with DAC | CAS 863288-34-0 | improved physique and sense of well being |
| PT-141 | | increase libido effects of both men and women |
| GHRP-2 | CAS 158861-67-7 | growth hormone stimulation |
| GHRP-6 | CAS 87616-84-0 | Increase in strength,Muscle mass,Body fat loss |
| Tb-500 | CAS 77591-33-4 | increases in endurance,strength and muscle growth |
Product Advantage
Quality
Our company is a professional production of hormone Steroids and peptides for 12 years,
all of our products have to be tested in professional lab before selling, it must meet the in-house quality control standard. Actual Purity is more than 99%. and we have got very good feedback from our customers, you can trust us

Package
We will use different packaging with different products for different countries , such as food packsges.so on.

Delivery
Package will be shipped with 3 days after payment. We can send it via HKEMS, EUB, DHL .UPS, TNT.FedEx or other method. We have a professional and stable logistics, We will decided to choose which courier depend on Different countries.To find the best way to delivery the goods for you..If the goods were lost or not received for other reasons, please contact me Immediately.We will give you arrange resend

Clearance
Our clearance rate is very high, especially for Brazil, Australia, Canada .Mexico, Chile,and other countries, we have special packaging for better Clearance