Top quality safe delivery LGD-4033 Ligandrol with best offer

LGD-4033 Product name: LGD-4033
LGD-4033 Synonyms: Ligandrol
LGD-4033 CAS: 1165910-22-4
LGD-4033 MF: C14H12F6N2O
LGD-4033 MW: 338.2482992
LGD-4033 Apperance: White Crystalline Powder
Description:
LGD-4033 is rapidly increasing in popularity, as it has shown to be the strongest and most anabolic-like SARM in existence up to this point. SARMS are quite different from steroids in terms of their makeup, lack of side effects and recovery time. SARMS can be run much longer than oral steroids.
They are non-methylated and don't pressure the liver. Although the results are not as drastic as some steroids, they are much cleaner, more keepable and have several properties that are extremely desirable that steroids may not be able to provide.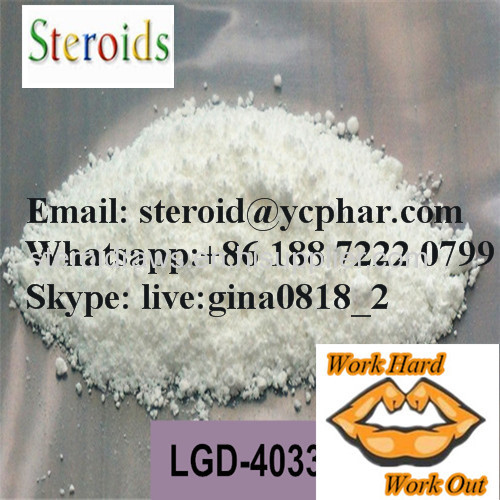 What is LGD-4033?
LGD-4033 is one of the newer SARMS that has come out. It is a non-steroidal oral SARM that binds with AR which produces steroid-like results minus the steroids. It is the closest SARM that can be equated to an anabolic in terms of strength. LGD-4033 is the strongest of all the SARMS in terms of the size you can gain.
It's in a group of androgen receptor (AR) ligands that are tissue selective, created to cure muscle wasting linked with acute and chronic diseases, age-related muscle loss and cancer. LGD-4033 is anticipated to yield the healing benefits of testosterone with better safety, admissibility and patient acceptance due to tissue-selective mechanism of action and its oral form of administering.



Item

Specification

Result

Appearance

An odorless, almost white or white powder

pass

Identificaton

The retention time of the major peak is
confirm to the RS

pass

Loss on Drying

Not more than 0.5%

0.33%

Assay(HPLC)

Not less than 99.0%

99.59%

Ignition residue

Not more than 0.1%

pass

Heavy metal

Not more than 20 ppm

pass
LGD-4033 Powder Bulking:
LGD has shown the most ability of any SARM to put on size that could be considered a bulk. This will, of course, be dependent upon the diet used. Users that have experienced more than 10lb. increases, and have had a significant increase in calorie intake. The possibility of this type of size is present with LGD use. A recommend dosage for this type of goal would be 5-10 mg day for 8 weeks.
More products:SARMS series:
| | | |
| --- | --- | --- |
| NUM | Name | CAS No |
| 1 | LGD-4033 | 1165910-22-4 |
| 2 | MK-2866 | 1202044-20-9 |
| 3 | MK-677 | 1132656-73-5 |
| 4 | GW-501516 | 317318-70-0 |
| 5 | AICAR | 2627-69-2 |
| 6 | SR9009 | 1379686-30-2 |
| 7 | RAD140 | 1182367-47-0 |
| 8 | Andarine(S4) | 401900-40-1 |
Our commitment:

1. Quality assurance
With our years of experience, advanced technology and continuous research, our quality is to fully meet the needs of the market to meet the requirements of customers, many customers use our products, we believe that the product is very good. Whether it is a powder, or liquid, yes, we all know, our liquid better.

2. Safe transportation
Our mode of transport is taken according to each country's situation is different transportation, while our packaging, according to the latest customs situation, constantly updated, improved our packaging, we guarantee that you receive it within 3-5 to your product.

3. The product diversity
Our products are powders and liquids, yes, brothers, the effect of the liquid is very good, but many people do not use liquid, so you are very lucky, you buy our powder, we can tell you the method of making the liquid If you buy a liquid, we will tell you how to filter. We absolutely guarantee that you can very safely use our products

4. High quality service : Our goods packing will not contain any hormone information and can be sent out from different areas of china. At present,the goods customs clearance rate we send to United states and Europe is 99%, As for Canada, Brazil of quite high buckle close rate area, we also have a new way to get through the customs. We also have completely re-send policy to some areas.