Pharmaceutical syringe filling plugging machine
This machine is firstly developed in China ,Features including automatic syringe nest-tubing-feeding,automatic paper-Cover opening/throwing ,automatic vacuum filling ,automatic vacuum plugging and automatic nest-tub out-feeding .Accurate filling ,controlling bubble during plugging.Automatic operation with monitoring all the way ,Beside normal liquid,also suitable for filling transparent thick liquid.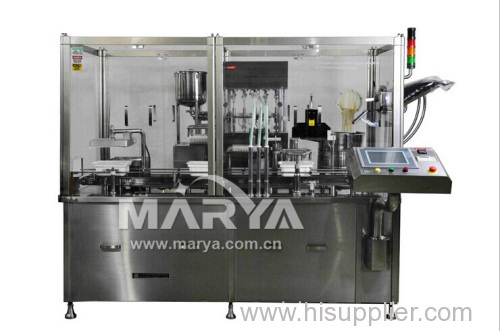 This machine is suitable to pre-sterilized syringes(SCF type) made by BD,BG,SCHOTT and major Chinese suppliers ,Custom-designed is optional for other types of syringes.
Five sync filling nozzles ,Four sets of servo motors (YASUKAWA,Japan) for accurate filling ,plugging reliability and accurate row by row moving during filling operation.
SS rotating pumps,Filling volume set-up and accuracy tuning are executed on touch-screen without any tools.
Siemens color touch screen ,Real time monitoring and display of each operating status,vacuum pressure ,nitrogen pressure,C/A pressure,fault alarm with position indication,fault indication and record.Multi-languages display.
Plugging quality is monitored with MVS(machine vision system) to ensure higher acceptability(Option).
Process parameters can be timely printed ,stored and retrievable.
All contact parts are of SUS 316L and medical silicone rubber.Machine is coated with SUS304 and 6061 Oxidated aluminum alloy.
MAIN CHARACTERISTICS:
* The filling needles enter the syringe barrels without any contact with the container
* Automatic extraction and re-insertion of nest from and into the tub
* Nitrogen Gas Purging Unit
* Vacuum filling system for viscous products to avoid air bubbles
* CIP-SIP systems
* LAF and RABS integration
* Pre-arranged for isolator
* 21 CFR Part 11 compliance
Technical data:

Filling Volume:0.1-0.5ml,0.5-3ml,3-10ml,10-30ml
Number of Filling Nozzle:5 sets
X travel Distance :900mm
Printer:Hot-sensible printing paper,width 56mm,max 20 alphabets per line.
Machine Vision system Resolution(Option) 752*480dpi
Vacuum:0- -98Kpa(0--- -750mm Hg)
Nitrogen 1Kg/cm³,0.1m³/min 0.25u
Compressed Air:6Kg/m³,0.35m³/min
Power Supply(Including vacuum pump): 3P 380V/220V 50-60Hz 5.5 KW
Dimensions:3050*1600*1900mm (L*W*H)
Net Weight 950kg