China glass Bottle IV Production Line
● Introduction:
This high speed glass bottle I.V.infusion solution production line is made up with ultrasonic Washing machine,Precise washing machine, Filling and Stoppering machine,capping machine,Automatic loading machine,Unloading machine. Ispection machine,Labeling Machine,Wrapped Packing machine and cartoning sealing machine,it can complete the working procedures of bottle-handing,bottle conveying ,delicate,rough washing for the inner and outer surface,filling stoppering ,cap loading ,capping ,loading unloading ,inspecting,labeling and packing.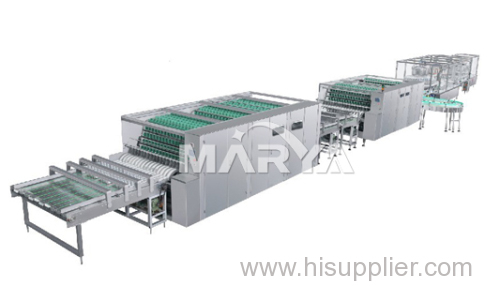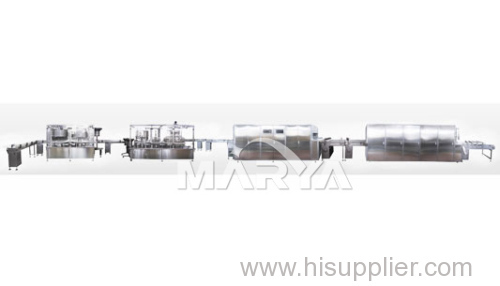 ● PERFORMANCE AND CHARACERISTICS:
1.The corresponding part of main machine is equipped with buffering platform for bottle conveying,which ensures that the machine can run smoothly in the state of high speed.
2.Ultrasonic wshing machine adopts internationally initial-established patented technology that bottle enters continuously and nozzle inserts into inner bottleneck for synchronous track washing with the same output,the volume for the machine is 1/3 less than that of other machine,and save the using space ,applying grade reducing recycling and using again water resource system,reduce the water consumption ,patent bottle support save the time of installation and remove special design to change parts to simplify the replacement and no need to discharge the bolt and screw,these excellent technology is to cut down working time and reduce the using cost of machine.
3.Filing adopts constant-pressure continuous filling patented technology ,high filling accuracy,high production capacity.
4.It can achieve the aim of no bottle ,no filling ,CIP as well as SIP and complies with new GMP requirement.
5.The Capping machine adopts patented technology for cap loading so it solves the problem of unstable cap hanging when it runs with high speed by applying multi-parts to be connected, which also solve the easy-damaged replacing parts and reduces cost consumption.
6.Loading machine and unloading machine apply patent technology with one layer by one layer to use completely the space of sterilizing trolley and increase the use rate of sterilizing trolley.
7.The connection of conveying belt apply across one and not connected directly to solve the bottle fall problem when bottle transferring.
8.Speed gap and no resistance conveying platform is let high speed conveying system smoothly.
Company Information
Shanghai Marya Pharmaceutical Engineering&Project Co.,Ltd is a professional Pharmaceutical Turnkey projects Contractor .We have 3 our own factories and more than 30 OEM factories under quality Control of Shanghai Marya,We have a 30 year experienced professional team for doing the turnkey project from design to construction.
Our Pharmaceutical projects can be done according to international standard like EU cGMP, USA FDA, WHO GMP, UK MHRA, Australian TGA, etc
We are not noly a manufacturer but also a designing and construction company. We can provide much better price and better technical support and service than other companies
We can design and manufacture machines based on Customer's request ,Your satisfaction is our top Priority.
With 30 year experienced professional design team and construction team.Under the support of our factory ,We can provide customer with high efficiency and quality in project, save your time and cost.
Our machineries and projects have sold all over the country and they are exported to America, Europe and middle east ,South east Asia, Africa and other countries and regions.
Welcome to Visit Our factory in China
Our Services
WHY US?
We can provide Pharmaceutical Turnkey project Service including all the pharmaceutical machineries and clean room projects from designing to construction
We can provide our project according to the international regulations like EU cGMP, USA FDA, WHO GMP, UK MHRA, Australian TGA, etc
We can provide 30 year experience engineer team go give you free Consultation service We Can provide FAT and SAT Service
We can provide DQ,IQ,PQ,OQ documents service
We can provide overseas machine installation and commissioning
We can provide free training service for your employee
We can provide One year guarantee for the machine and project
We can provide 24 hours technical support by email
We can provide our installation team to your country to do the installation
We can provide user friendly English Software ,user manual and detailed video
You have nothing to worry if you cooperate with us for the pharmaceutical Project
Looking forward to cooperating with you.