● Main Usage
This machine is the special equipment for production of PP plastic bottles bottle infusion. It can finish a series of producting procedures automatically, such as, air washing, water washing, liquid filling and welding, sealing compound cap.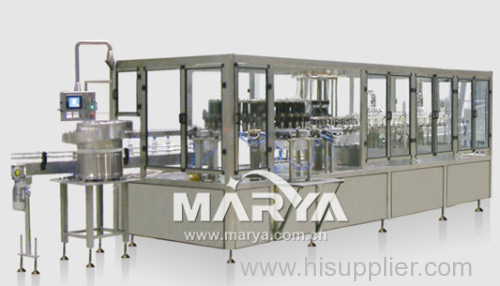 ● Performance characteristics
1. Wash potting trinity, compact structure, occupying less area, decreased pollution for the intermediate links.
2. The clamping manipulator conveys bottles, specification moulds are easy to change.
3. The continuous rotation cleaning method ensure the high-speed production of cleaning time.
4. The bottle blowing into a way, no crowding or stucking, realizing fast on-line production.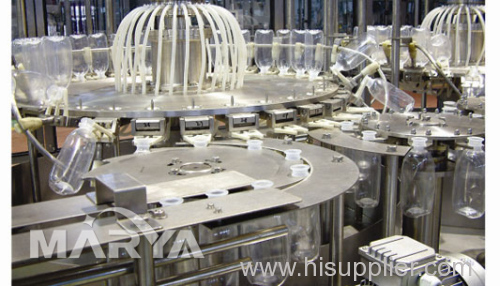 5. Adopt pneumatic diaphragm valve timing constant pressure filling way, and guarantee the measurement precision.
6. The fluctuation heating double heat the plate, and heating temperature can be adjusted freely, meeting different melting sealing requirements.
7. Unique heating board structure can guarantee the heating plate freely extend after being heated, reduce the deformation.
8. The unique cover structure of the manipulator make sure to pick up the caps accurately. Welding stress is even, and the fusion makes the bottle face even firmer.
9. No filling or no bottle shows will not add cover, can achieve automatic exhaust function.
10. PLC control, man-machine interface operation, freely to set parameters, convenient and practical, highly automation.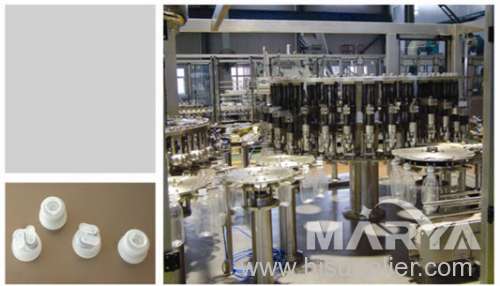 ● Technology parameters
Applicable specifications: 100 ml, 250 ml, 500 ml
Production capacity: 10000-18000 bottles/hour (250 ml calculation)
Total power: 48 KW, 380 V, 50 HZ ac
The main motor power: 5 KW
Clean compressed gas pressure: 0.5-0.6 Mpa
Gas consumption: 0.4 Mpa, consumption clean compressed air 4-5 m3 / minutes (including gas wash dosage)
Blunt water pressure: 0.3 0.4 Mpa
Purified water consumption: 0.3 MPa, the consumption of 2400 L/h
Inject water consumption: 0.3 MPa, the consumption of 2400 L/h
Overall size: 10420×2460×2400 (mm) (L×W×H)
Total weight: 8500 kg