Product Name:
Natural raw materialas horseradish Wasabi Powder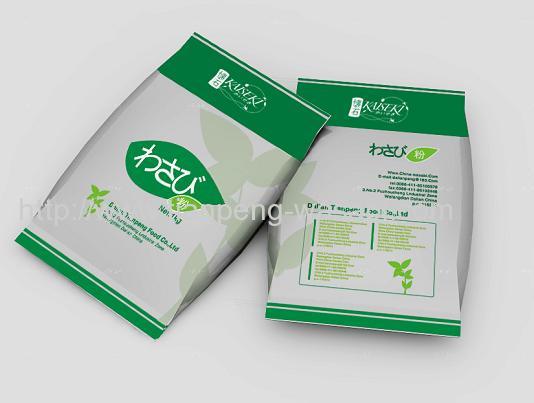 Horseradish is a very strong and potent gastric stimulant.It goes very well with rich and fatty meats.
It is also a good expectorant and can aid in soothing respiratory problems
Usage: common serve fresh foods such as lobster, sashimi sushi sea food, cold vegetables,and other cooked food.
Storage: store in cool & dry place,better in refrigerator
We can accept mixed order and small order and OEM can be acceptable
Wasabi, also known as "Japanese horseradish", is a hot Japanese spice root and an important member on any sushi table.
General sold wasabi paste is made of wasabi root,horseradish,mustard. not purely wasabi, for fresh wasabi is quite rare and expensive, while horserasdish and mustard can replace the spicy taste in someway.
Some like to mix it with soy sauce bowl for future dipping, and some rather place it directly on the sushi just before they eat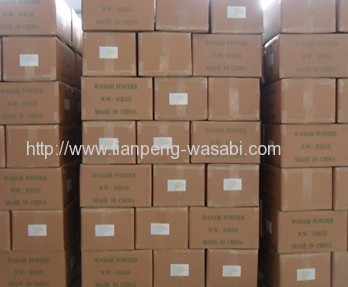 Wasabi powder

Shelf life

Packing

GW(kg)

Dimension (cm)

FCL 20'GP

18 months

35g*12/10CTN

7.5

31*21*16.2

17280CTN

1kg*6/CTN

6.8

38.5*21*24.5

1650CTN

1kg*10/CTN

11

36*26.5*31.5

1024CTN
Ingredientlist

Nutritionfact(Per 100g)

water

XanthanGum

Energy

261.7 kcal

Cholesterol

0 g

Horseradish

Flavoring

TotalFat

13.7 g

Carbohydrate

34.3g

vegetableoil

Sorbitol

Sodium

2.8 g

Protein

0.3 g
Wasabi paste

In tube

Shelf life

Packing/CTN

GW(kg)

Dimension (cm)

FCL 20'GP

18months

43g*100

6.6

40*31*15.5

1470CTN

43g*24

2.06

25.5*15.7*13

5994CTN

43g*12

1.28

17*15.5*9.5

13875CTN

Wasabi paste

In sachet

18months

2.5g*200packs*150

9.6

35*27.2*19.7

1536CTN

Wasabi sauce inbottle

18months

150ml*24

6.8

32.5*22*18.8

1666CTN