1. Specification of Hot sale coloful soft artificial grass for commerical area
(We can produce andsupply various types artificial turf according to your design and specs.)
TYPE
STK33508
YARN
TOLILON® PE/ MFY /6600dtex+
TOLILON®PP/MFY CURLY/4400dtex
PILE HEIGHT
35mm
GAUGE
3/8 inch
PRIMARY BACKING
Fleeced backing with PET yarn reinforced + PP Anti-UV backing
SECONDARY BACKING
CSBR LATEX

Characteristics:
1.Perfect for landscaping:looks very close to natural grass and goes perfectly with the surrounding environment,soft,comfortable touch.
2.Long life span: druabl raw material,environmental-friendly.
3.High UV-stability:strong color fastness
4.No maintenance cost
5.It is similar to nature lawn, with easy drainage.


2.Product pictures of coloful soft artificial grass for commerical area :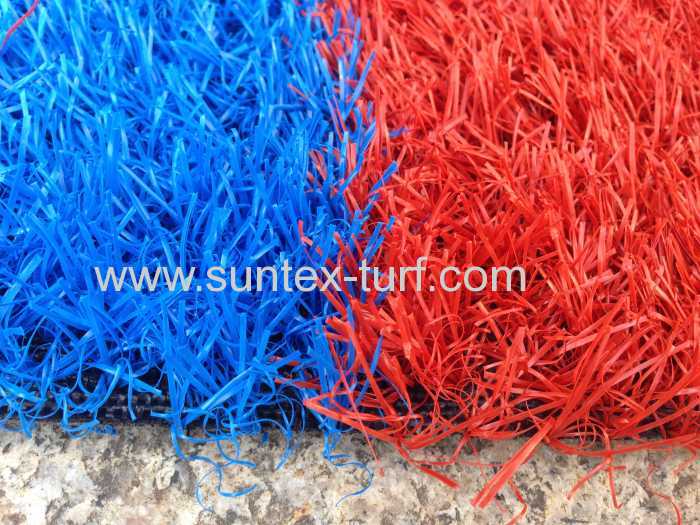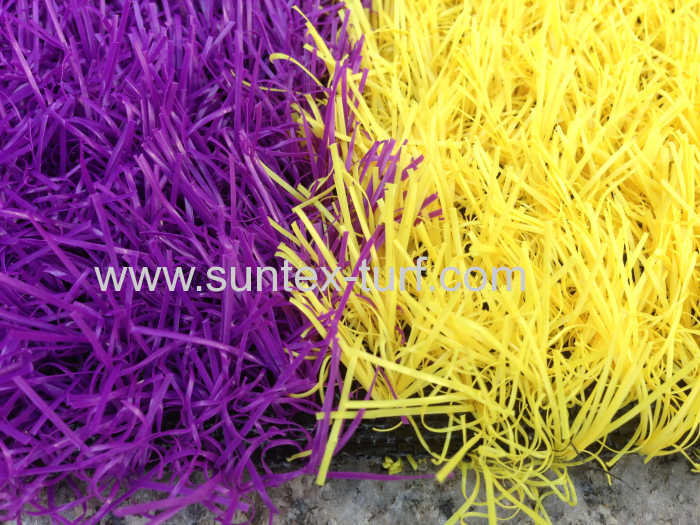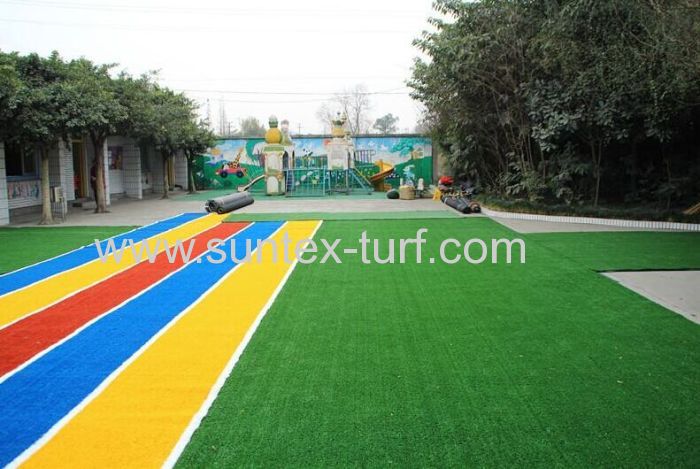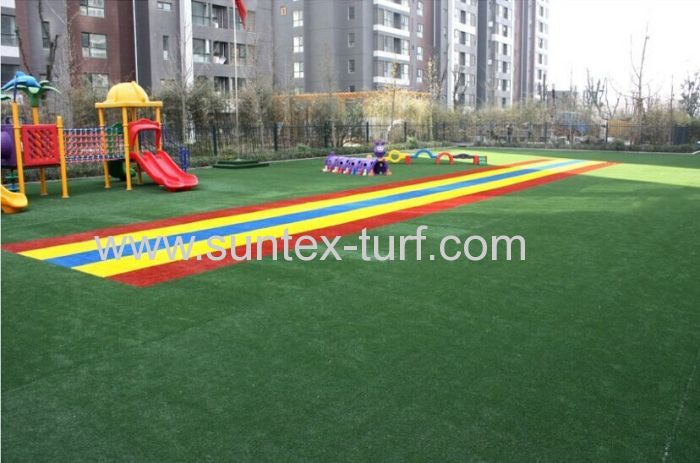 3.Consumption of infill materials for installation: (reference for artificial grass for garden only)
1.3-5kgs/m2 colorful EPDM or PET granule for beauty,softness- just for option
2.3-5kgs/m2 quartz sand or silicate sand to stablize the whole system
3.0.6m/m2 Joint seaming tape for joining two rolls
4.0.1kg/m2 Adhensive glue for joining the rolls and seaming tape
4. Project templates :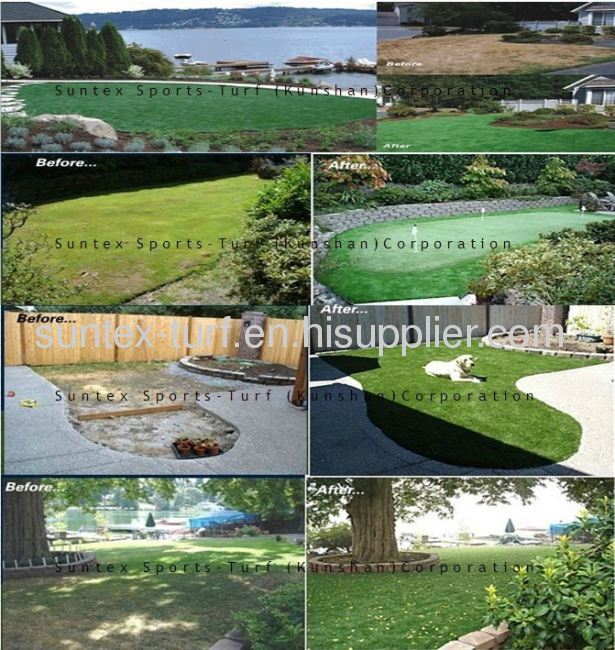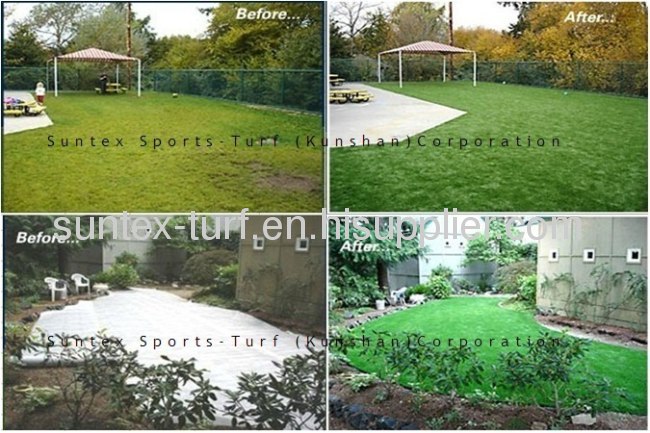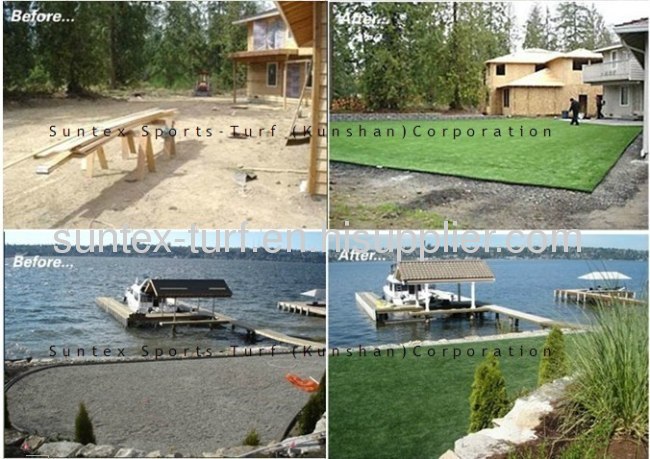 7.hot we pack and load artificial grass and grass accessories in containers

the package and loading way of the artificial grass / turf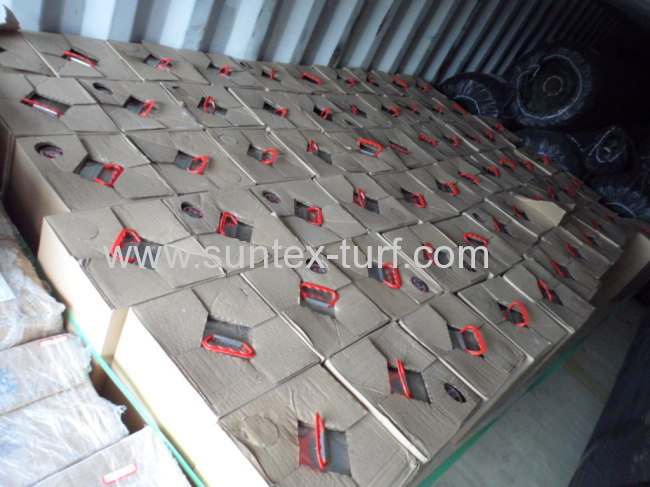 the package and loading way of glue for artificial grass /turf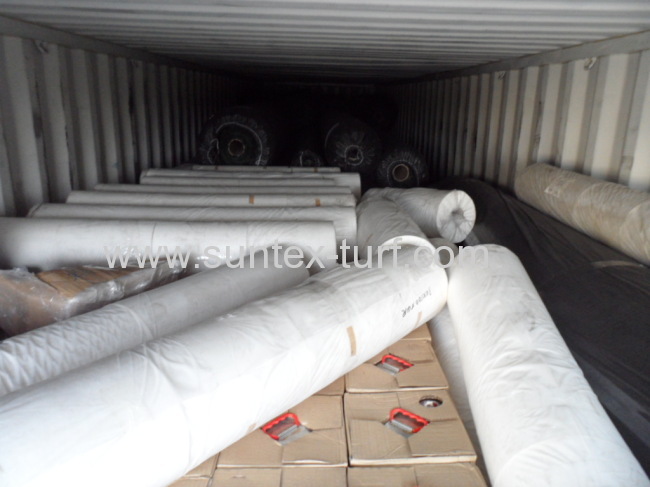 the pakcage and loading way of joint tape for artificial grass/ turf



The package and loading way of rubber granule
8.About Suntex Sports-Turf (Kunshan)Corporation
We Suntex Sports-Turf (Kunshan)Corporation are a professional artificial grass /turf manufacturer and have engaged in producing all kinds of artificial grass for more than 9 years. So far, Suntex employs more than 100 workers and has 5 different gauge machines, which allow Suntex's annual production capacity to be 3,000,000 square meters.
Our sophisticated tufting machines can produce various artificial grass from 6-mm to 75-mm pile height that can be used for different applications, such as for landscaping in your garden/ yard/ bacony/ rooftop/ swimming pool etc,sports pitch like: football, tennis, basketball, golf, etc,leisure places like: roof, swimming pool area,office area,etc.
In short,we can produce any grass that can be used for anywhere you can image.
Suntex factory is about 1.5hours by car away from Shanghai Pudong international airport,and we welcom you to our factory for business inspection and negotiation!
Come to Suntex,we'll not let you down!
8.FAQ:
-Q1- What is dtex?
A: Weight of fabrics per each ten thousand meters
-Q2- Does artificial grass have a limited life?
A: It has long life lasting 8-10 years. Artificial grass is a synthetic product exposed to outside. With
anti-UV function the grass guarantees users up to 8 and 10 years life span. The development of
manufacturing fibers of artificial grass is taking giant steps forward, thus offering greater resistance
to wear and the flattening of yarns. So it is important to choose high quality artificial grass when
purchasing.
-Q3- Does water drain through the artificial grass?

A: Yes. In fact, the grass have specially designed drainage holes placed consistently throughout
the turf to ensure water sheds quickly and efficiently and does not pool on the surface.
-Q4- How much infill does artificial grass need each meter?

A: It needs 25kg sands + 7kg rubber granule/square meter.
-Q5- How to install the artificial grass?

A: The installation of artificial grass please contact us.