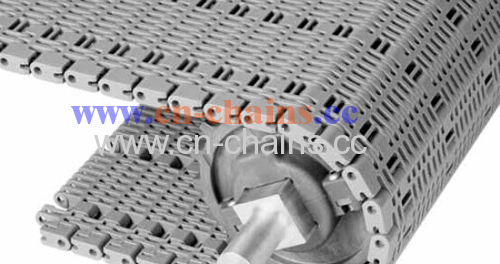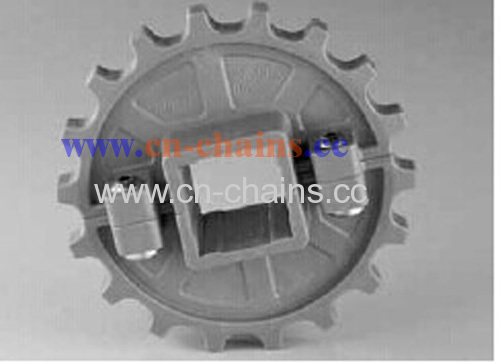 Belt data
Belt type

Material

Temperature range

Belt strength

Weight

℉

ºC

kg/m

kg//㎡

FG900

PP

34 to 220

1 to 104

1800

7.86

PP

34 to 220

1 to104

1800

8.10

POM

-50 to 200

-46 to 93

2500

12.30
1400 sprocket data
NO. Of teeth

Pitch diameter

Outer diameter

Hub width

in

mm

in

mm

in

mm

18

5.7

145

5.8

148

2.0

51

21

6.7

170

6.8

172

2.0

51
One of the greatest concerns in meat industry is the cleaning of the production lines. Blood, viscera, and other organic substances make difficult the
cleaning and, therefore, obtaining optimum sanitary conditions.That is why in food industry, and particularly in meat industry, all conveying systems have to
be entirely accessible in order to carry out their cleaning. The plastic modular belts can be moved, taken off, lifted, even easily dismantled, in order to allow
the access to the most difficult areas to be cleaned.Some belts have been specially designed for carrying out a continuous cleaning without stopping the
production line.
modular conveyor belt Rellwin belts are made of plastic modules. belts are assembled in an interlocked, bricklayed pattern with full-length hinge rods – an
inherently strong design.
Strong and reliable
The FG1400 modular conveyor belt has increased performance in the following industries/applications:
1. Bakery applications including pan handling and incline/decline box or pan applications.
2. Meat or poultry applications including packaging lines and incline box conveyors.
3. Beverage applications including depalletizers, accumulation tables and incline case conveyors.
4. Can manufacturing applications including palletizers, mass handling and accumulation tables.
5. Corrugated applications including downstacker, corrugator take off, transfer car and WIP storage.
6. Tire applications including wigwag, extruder takeaway and inspection applications.
7. Material handling applications including incline applications, palletizers and packaging lines.
We are China modular belt manufacturer offer best modular belt OEM, ODM,service.
Our services

1. Warranty time: 1 year. The conveyor belt / chains / sprockets which supplied by our company could be exchanged when it have quality problems,such as it was broken in installing , the pin run out from chains or the chains parted . But if the user use it in a wrong way, we can not provide any goods for free .
2. Payment: T/T , L/C , Western Union or Paypal .
3. Lead time: 5~15 working days, subject to the order quantity.
4. Shipment: by sea, by air,door to door service for samples transportation.
5. OEM service : we have our own R.D team . If you want to purchase the belt which we have not or you have your own design , we would like to make mold for you for free , only have the condition of requiring continuous orders ,and first order must be more than 60 square meters .

Company and Productsinformationrelated:
Ningbo Rellwin IndustryCo.,ltd.