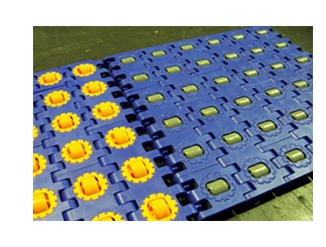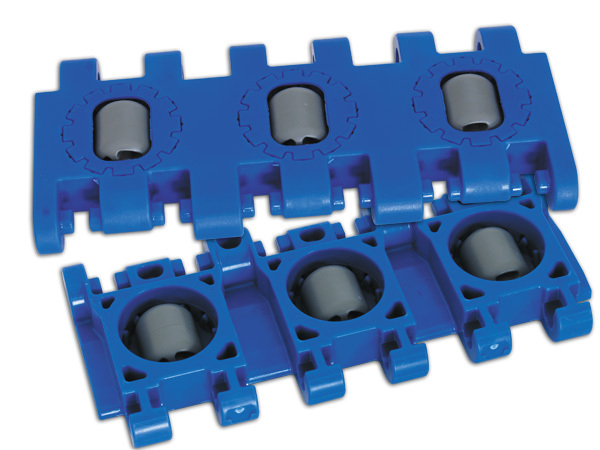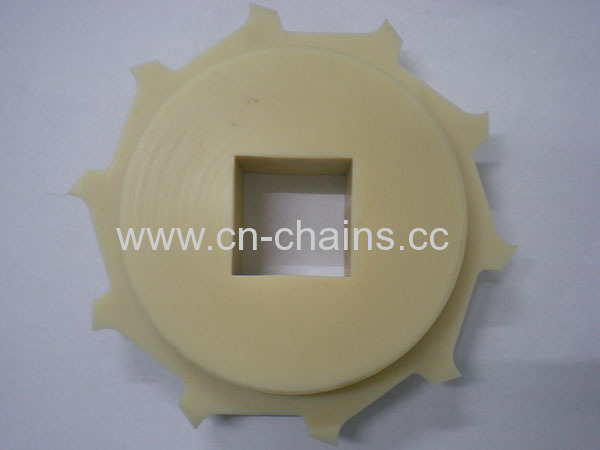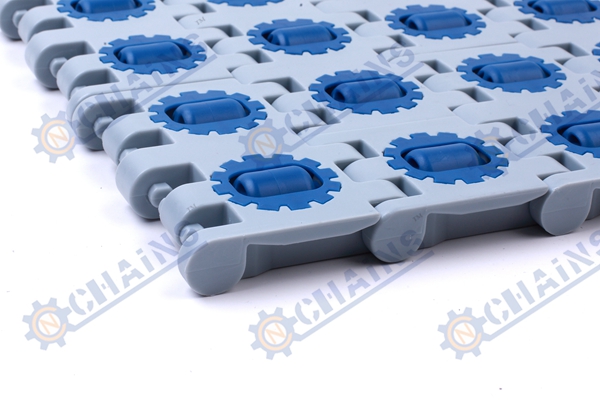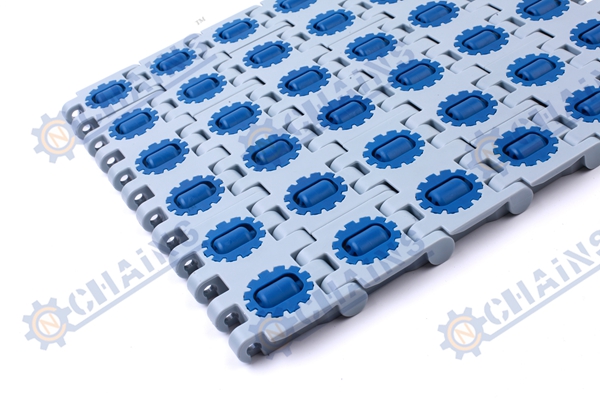 A modular conveyor belt, which is capable of flexible running and assembly of a plurality of rows of plastic belt modules in the form of modules.Rows of
conveyor belt modules connected by a connecting pin extending along a hinge line with the pin passing through the end of the chain conveyor belt module
as an opening, the opening extending in the longitudinal direction of travel, the adjacent rows of modules the chain ends are staggered,Among them:Longitudinal direction from the end of conveyor module conveyor extending in the conveying end of the conveyor chain has a slot opening for receiving a
connecting pin conveyor, in each module, the chain conveyor comprises a front end and a rear end of the chain terminal group group wherein one low chain
end groups are in a higher position, and the other in the lower position, the delivery module is assembled and staggered, so that one end of the module
row of high amylose and high chain-end connected rows of adjacent modules, and a module row conveyor connected to the low end of the chain of another module adjacent rows located at
the inside of a turn in the road in turn transport conveyor modules together shrinkage, high chain-end along a first direction extending in the forward or backward adjacent the upper end of the lower strand of the next module row also extending in the first
direction along a conveying module adjacent to the top by overlapping therewith, the delivery conveyor at the high end of the chain adjacent to the next
module in the row of connecting pins, so that with the turning of the inner edge close to shrink.
Company Name: Rellwin Industry Co., Limited
Or name:Ningbo Rellwin industry Co., Limited.
Located in the Port city ------ NINGBO
Business range ----- a variety of plastic chains/modular plastic belts /conveyer accessories and so on
(Our factory)Histry in domestic market: Around 20 years
History in foreign trade: More than 3years
Rellwin industry Co., Ltd is specialized in developing and manufacturing a variety of plastic chains, modular plastic belts and conveyor accessories. Through
the ongoing R&D, we have own design team ,professional machine and processing equipment and so on.. OEM&ODM service is our feature ,High quality
and short delivery time is the customers of our evaluation.
We provide worldwide customers with a full line of reliable products:
1, Automatic Vertical Packing Machine
Suitable for measuring and packing anomalous lumpish and granule materials, such as candy, popped food, biscuit, roasted seeds and nuts, granulated
sugar, deep-frozen food, milk powder, milk tea, amylum, sauce and so on.
2, Automatic label sleeving machine
Such as Shrink Film Labeling Machine, Adhesive-tape labeling machine
And Hot Melt Adhesive Labeling machine
3, Conveyor
Such as top chains type conveyor, functional modular net chains type conveyor, screwy type conveyor. Bucket lifter, clamping lifter, belt and roller conveyors.
Our products are widely used in such machinery industries as alcoholic and beverage, food & cold food, tobacco, (pillow-type) packaging, chemicals,
pharmacy, cosmetic, bottle-making, jar-making, post & telecommunication, and painting engineering
4, Conveyor chains & components
Such as steel chains, plastic top chains, functional mould netting chains, conveyor components, sprockets, corner tracks, roller, screw track, star wheels
and wearstrips
Trade Terms:

1. Payment By T/T or Western Union or Paypal. 100% payment if the total amount is less than USD 500.00
2. Lead time: 5~15 working days, subject to the order quantity.
3. Delivery ways: by sea, by air . DHL , UPS door to door service for samples transportation ,
4. Free sample: 2pcs

Our service:
1. Reply your enquiry in 24 working hours
2. Experienced staffs answer all your questions in fluent English/
3. Customized design is available, OEM&ODM are welcomed
4. Exclusive and unique solution can be provided to our customer by our well-trained and professional engineers and staffs.
5. Special discount and protection of sales area provided to our distributor.


Company and Products information related:


Ningbo Rellwin Industry Co.,ltd.