• Small straight running plastic chain with closed top plate
• Driven by standard ½" (12.7 mm) pitch steel roller chain sprocket
• For applications requiring a closed top plate design that eliminates pinch points
plastic conveyor chain for conveyor system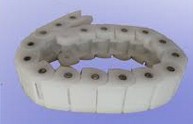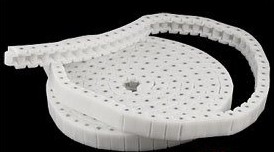 straight running plastic chain for exporter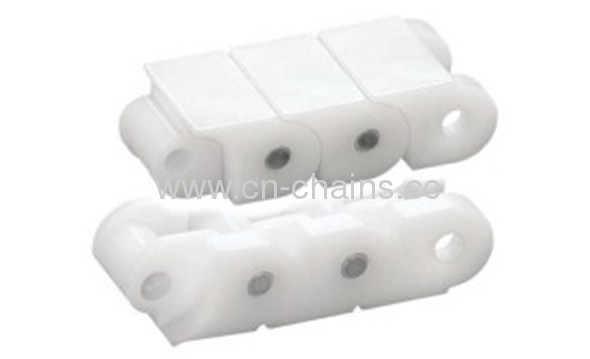 Flat top PLASTIC special chains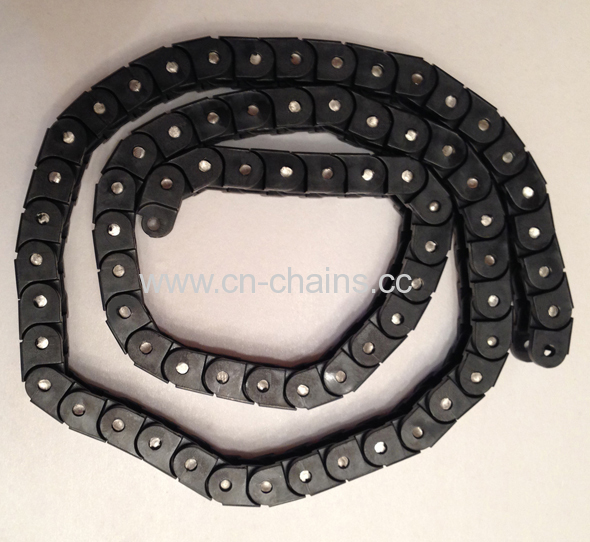 plastic modular conveyor chains 40P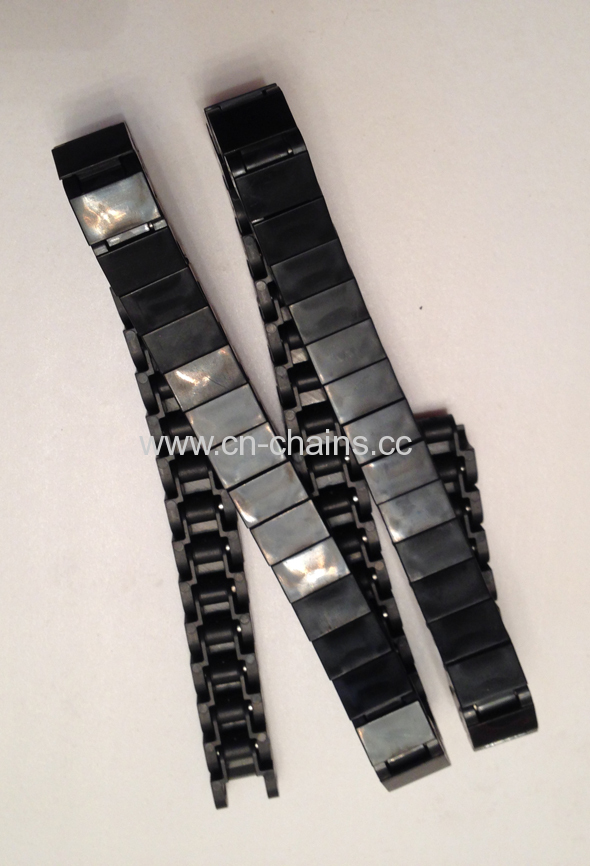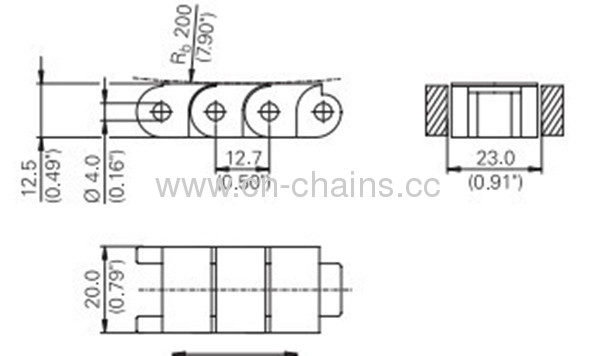 Code

P

E(min)

W(min)

H

H1

H2

Working load(max)

Weight

mm

mm

mm

mm

mm

mm

KN

kg/m

40P

12.7

7.95

20

12.7

6

6.7

0.44

0.36

50P

15.87

9.53

22.5

15

7

8

0.69

0.46

60P

19.05

12.7

30

17.3

8.5

8.8

0.88

0.72
This chainbelt offers a new and unique solution for sideflexing applications in plants with modular conveyor chains. The chainbelt is best suitable for
conveying glass and PET containers(for example pet bottles with petaloid base).
BENEFITS
-high strength and heavy duty flight design.
-standardisation in conveyor design.
-optimum product stability.
The material of the 40P generally are POM.The biggest advantage is that all of them can competent with whether the horizontal or the vertical rapid turns
and friction and noise are small.The characters are easily installation and maintenance and high mechanical strength as well as excellent product handing.
Besides,this kind of products are widely used in food,soft drinks,packaging and can manufacturing,tobacco,medicine and chemical industry,electronics,
automobiles and logistics,etc.
In addition,as long as you give our the drawing and detailed specifications,CN-CHAINS has the
products to suit any customer application.
Transportation and daily maintenance of plastic conveyor chains
During storage, the product must be placed into a roll not folded, turning once during placement should be on a quarterly basis
2.Different type, size layers together using the belt should
3.Type conveyor belt, structure, size, number of layers should be a reasonable choice according to the conditions
4.Feed direction along the direction of the tape should be, in order to reduce the impact on the whereabouts of the tape should be taken when the material chute, reducing materials falling distance
Conveyor chains in use should note the following
1.Avoid roller is covered with material, resulting in ineffective rotation to prevent leakage of material between the roller and the tape card, pay attention to the lubrication of moving parts,
2.Avoid starting with a over load
Feature of Plastic modular conveyor chain
Plastic modular conveyor chain using belt injection splicing, and with supporting the drive sprocket, with no deviation drive replacement easier cleaning
characteristics.Plastic mesh belt drive module is stuck in the belt sprocket sprocket grooves are opposite the corresponding drive, so no deviation.Plastic
modular conveyor chain is easier to replace because it is wearing a matching pin assembled, it can be based on partial replacement of damaged parts,
it is unnecessary to replace the whole one , to save a certain amount of expenses.Plastic modular belt is relatively flat and smooth surface, can be directly
rinsed with water and wash with some tools.Plastic materials have arbitrarily chosen to achieve and satisfy the conditions customers, there are food-grade
plastic chain and high temperature plastic mesh and plastic mesh chain wear and rally.Is a new type of environmentally friendly technology conveyor
ideal supplies. Plastic mesh is also called plastic modular belt belt is the introduction of foreign advanced technology, using molds for injection molding
and then stitched together according to customer demand.
Our company has been qualified with ISO 9001:2000 quality system. The production strictly complies with the standard and procedures of ISO 9001,
which ensures good product quality.
If you are interested in our products, please feel free to contact us.
Our services

1. Warranty time: 1 year. The conveyor belt / chains / sprockets which supplied by our company could be exchanged when it have quality problems,such as it was broken in installing , the pin run out from chains or the chains parted . But if the user use it in a wrong way, we can not provide any goods for free .
2. Payment: T/T , L/C , Western Union or Paypal .
3. Lead time: 5~15 working days, subject to the order quantity.
4. Shipment: by sea, by air,door to door service for samples transportation.
5. OEM service : we have our own R.D team . If you want to purchase the belt which we have not or you have your own design , we would like to make mold for you for free , only have the condition of requiring continuous orders ,and first order must be more than 60 square meters .

Company and Productsinformationrelated:
Ningbo Rellwin IndustryCo.,ltd.